TL;DR Synopsis
While investigating a brutal massacre at a local inn, a police officer comes across a girl's journal that creates more questions than it answers. After years of analyzing the journal, he passes it along to a movie producer, along with all his notes. We get to read it after the Hollywood exec determines it to be perfect blockbuster material.
TL;DR Review
I didn't expect to like this book much, but ended up getting so sucked in that I read it all in one sitting. Then couldn't go to sleep.
Read It If
you enjoy creepy psychological thrillers
you're looking for a quickie
you enjoy journalistic writing
Skip It If
psychological breakdowns bother you
you scare easily and feel like having a restful night
you absolutely can't stand gore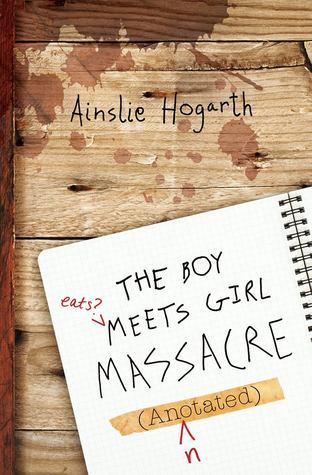 Review
I snapped this book up on a whim from a display in the YA section of my local library. It was just sitting there, all short and tempting, and before I knew what was happening, it had made it home with me. Due to large margins and type, it was even shorter than I expected, which let me read it all in a single sitting. Without even a bathroom break to interrupt me. Like a nice little book shot.
It wasn't mere brain candy, though. I thought it would be, which was why I grabbed it — to relax in the midst of some of the heavier nonfiction I've been slowly chewing through. It's not complicated or anything, but it's not relaxing either. It made me uncomfortable and scared, sitting there in my little nest of blankets. The main character's mental breakdowns, the graphic descriptions of self-inflicted body horror, and breakneck pace of events made my heart pound in a way that I don't tend to expect when picking up a YA novel.